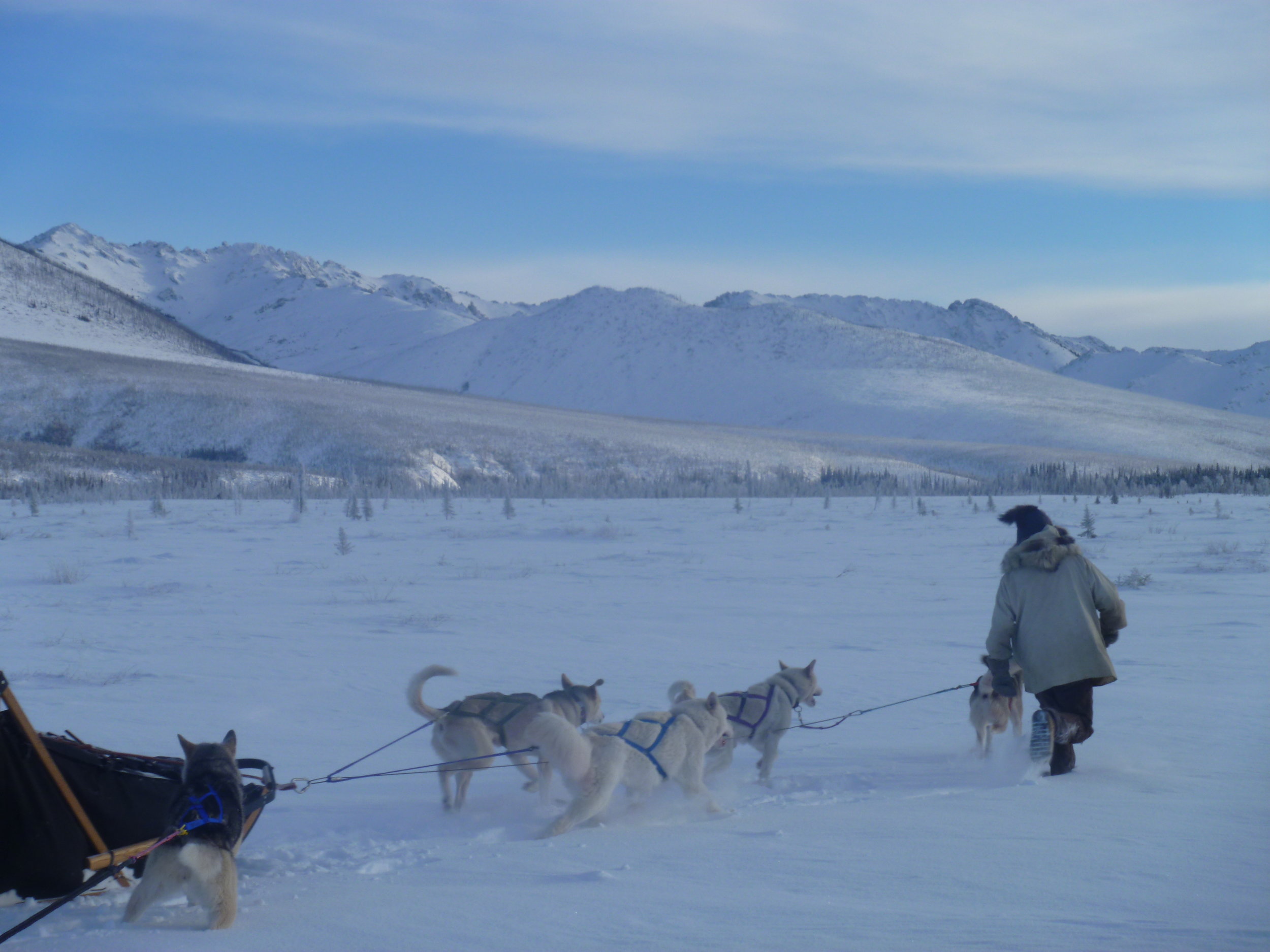 Cabin to Cabin Dog Sledding
In the White Mountains National Recreation Area
Location: The white mountains national recreation area
Activities: Dog MusHing, Snowshoeing, Skiing
Accommodations: Cabins, camping possible
Duration: 3-8 days
Capacity: 2-4 people
Start and End location: Fairbanks, AK
Time Window: December 1-April 5
Cost: $650-950/person/day, contact us for a quote.
Trip Highlights:
Located an hour north of Fairbanks, the White Mountains National Recreation area is a million-acre winter wonderland. A trail and cabin system allow us to access this incredibly scenic area of mountains, river and forest with ease. We have a special permit that allows us to use the cozy cabins in this area. Cabin-to-cabin travel by dogsled is a time-honored tradition in Alaska. If you want a trip that includes dog mushing, snowshoeing, and cabin-to-cabin travel in a beautiful place, this can't be beat.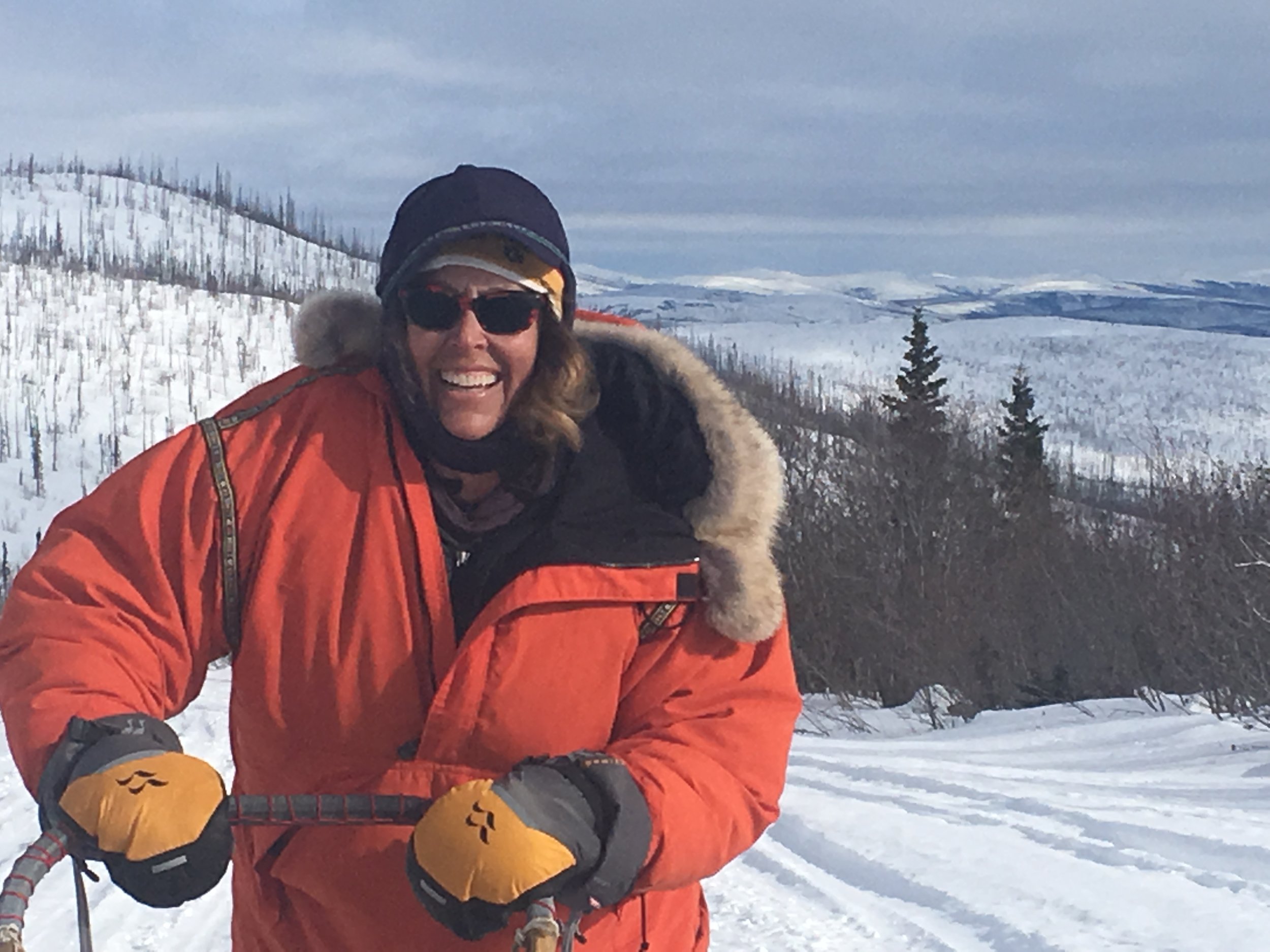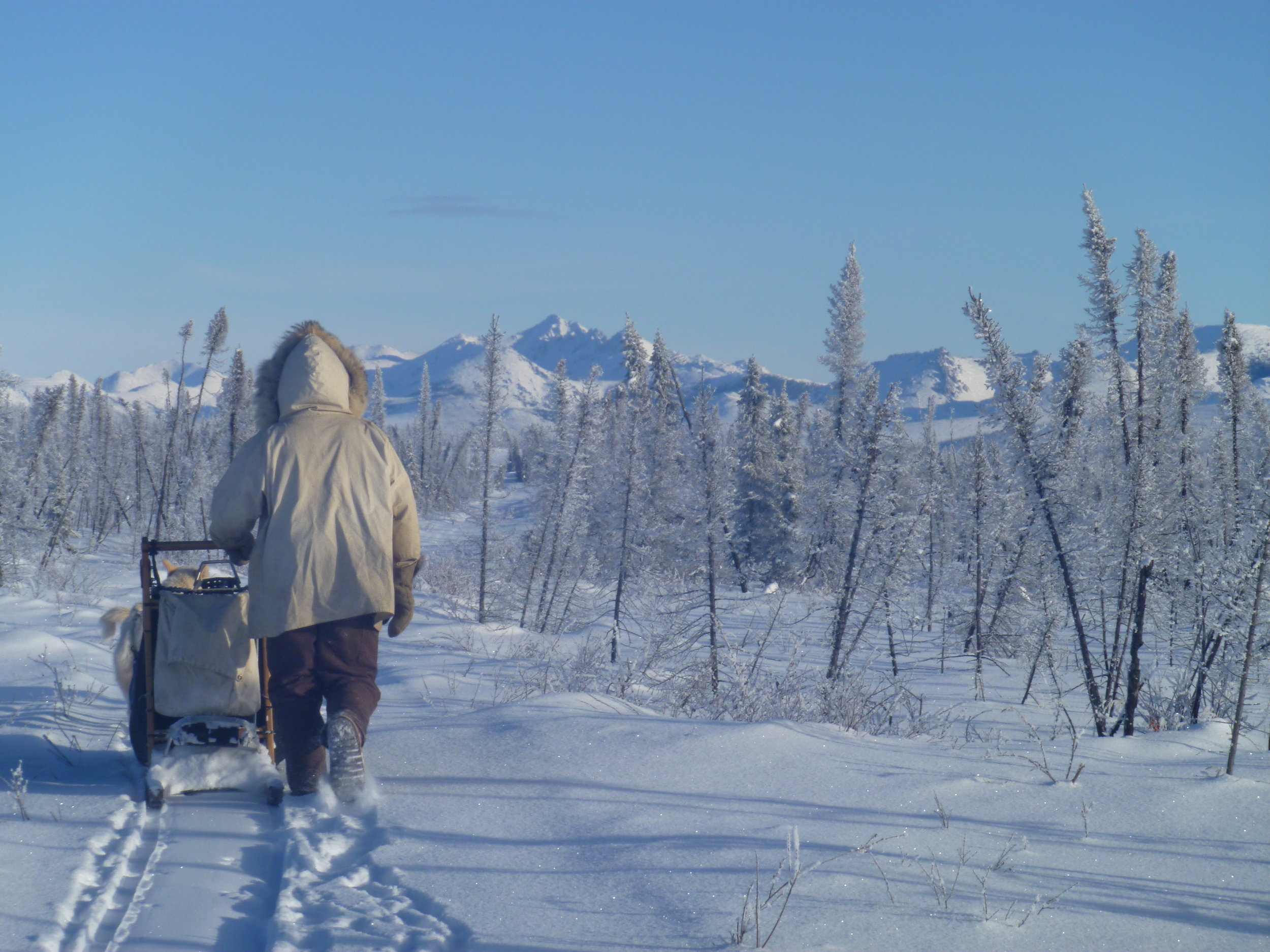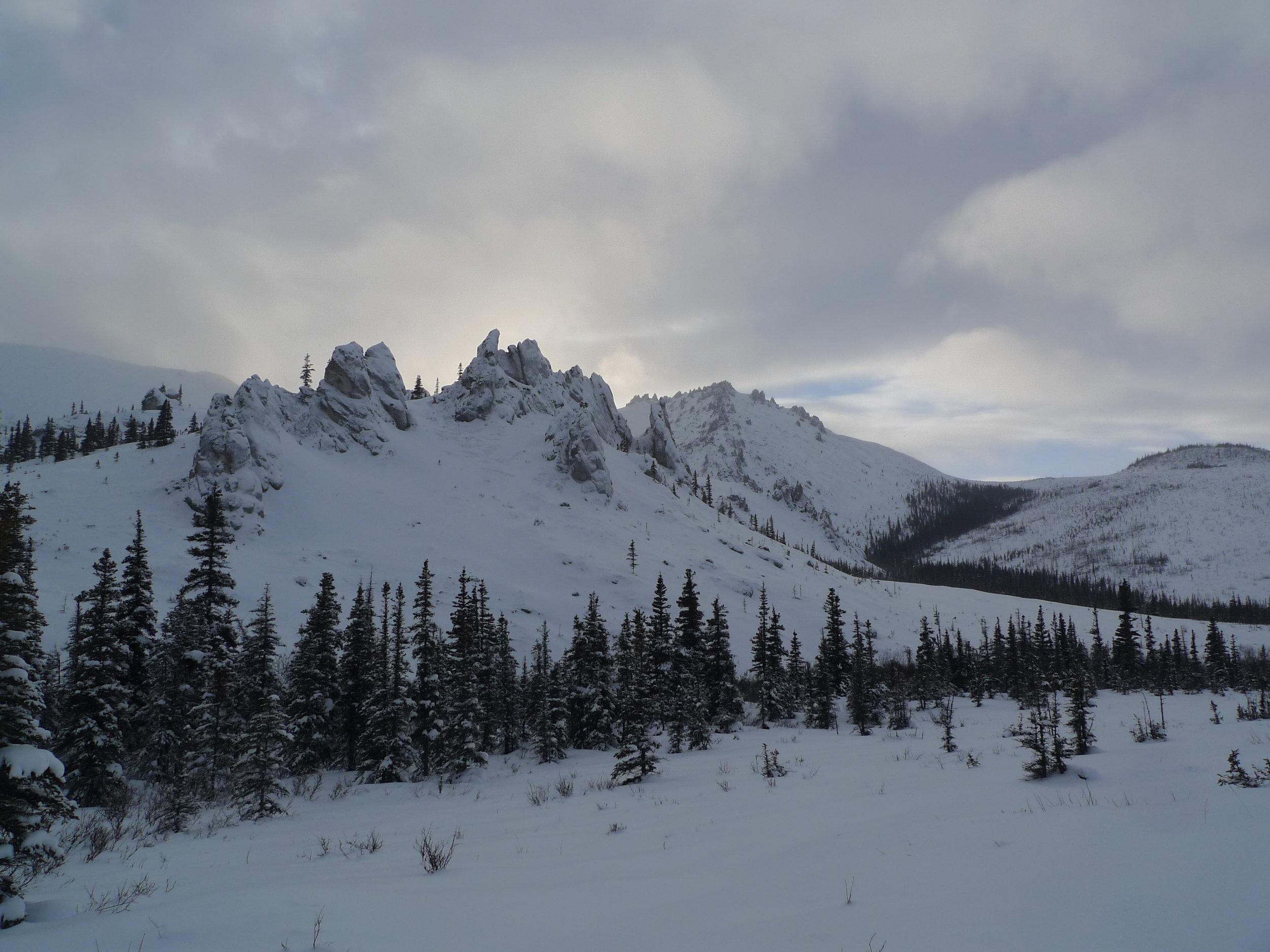 Itinerary:
Day 0: The day before your trip we will meet you at your hotel in Fairbanks for about an hour to check over your gear and help you get anything that you don't have. We'll bring along clothing for you to try on including: boots, snowpants, mittens, parkas and gators. We are happy to drive you to stores or restaurants in Fairbanks.
Day 1: We will pick you up from your hotel in Fairbanks with the dog team in tow and drive about an hour north to the trailhead gateway to the White Mountains National Recreation Area. Here we will have a picnic lunch, load our sleds, double-check your winter clothing, and cover the basics of dog mushing. When we're all ready we will take off down the trail, traveling as a unit of three people using our "tag sled" setup (two sleds are connected by flexible plastic, one person sits in the front sled, driven by the guide, and the other person rides standing on the back sled, learning to steer their own sled). We will mush along the trail, going up and down hills, along frozen rivers and through wide-open wild country. We stop whenever we please for pictures, dog pets, and snack breaks.
In 2-5 hours we will reach our destination: a cozy log cabin, our home for the night! Our snowmachine support will have the cabin warm and our gear inside so we can warm up and enjoy a hot drink to celebrate our arrival. The rest of the evening is spent cutting firewood (if you want), tending to the dogs, exploring the nearby woods on snowshoe, eating dinner, playing games, perusing the cabin's reading material, and checking for northern lights.
Each cabin is different, but most have wide wooden bunks for sleeping. We will provide camping mattresses, pillows and warm sleeping bags. There are several sizes of log cabins along the trail system. The smaller cabins are 10' by 12' and sleep four people in bunk beds. The larger 12' by 16' cabins can sleep 4 to 6 people comfortably and have a storage loft. The largest and newest cabins are 16' x 16'. The cabins are all off-grid and heated by woodstoves. We will use lanterns and candles for lights and melt snow or ice for water. Cabin life on this trip is much unchanged from how northerners have lived for hundreds of years. Enjoy the break from the modern world and listen to the crackling of a wood fire!
Day 2: After a warm breakfast, feeding the dogs, and looking at the map, we will hit the trail again. Each day of travel brings new scenery and surprises. We will stop to investigate animal tracks and read the stories left in the snow. We stop to enjoy a hot picnic lunch in the snow. We stop to take pictures of the scenery, dog team, and other wildlife if it sticks around long enough to be photographed. The White Mountains National Recreation area is popular with locals so we may encounter skiiers, skijorers, snowmobilers, bikers, and other dog teams on the trail.
Day 3: We try to plan at least one layover day into each trip. This is a day to explore without loading big sleds. We can take the dogs on a ride to explore new trail. We can also head off on snowshoe to climb nearby mountains and take in the scenery. We can sleep in and enjoy a book and a seat by the window or woodstove. It's up to you!
Days 4-6: Life becomes pleasantly simple as we settle into our rhythm of travel, food and rest. Each day we greet a new section of trail. Some sections of the trail are very hilly, some are flat. Sometimes we travel on rivers, sometimes we weave through spruce forest. We never know exactly what is around the next corner. By this point in the trail, you are fairly accomplished dog mushers and the guides are often the ones riding sitting in the sled. The rewards of a long trip include that you get to know the dog team very well, they start listening to your commands and working with you as mushers rather than passengers. Each cabin we travel to is different and it is fun to explore each new "home."
Back to town: On our last day we will mush back out to the trailhead. Here we load up the dogs and supplies and say goodbye to the White Mountains. We will drive you back to Fairbanks in time for dinner and a well-deserved hot shower. Our route takes us right by Silver Gulch Brewery in Fox and we may make a detour for cold beer.
Restrictions:
Due to our permit, we can only book cabins on week days (no Friday or Saturday nights) and non-holiday times.
We need to reserve the cabins a month ahead of time, so if you are interested in this trip advanced planning is a must. Please contact us as soon as possible for a quote.
Alterations:
This trip can be altered to include some nights camping along the trail.
It can also be a great cross-country skiing trip. We charge less money for this option!
Discounts:
Discounts given to bookings for the less busy season: December 1-15 or January 5-25.
Reserve your Adventure! After talking to us to confirm dates and details, please complete your reservation by paying a $500 down payment. This is fully refundable if you cancel at least two months before your trip's start date.
Just click the "buy now" button and pay using paypal.