Location: Rosebud summit, chena hotsprings, birch creek
Activities: dog mushing or cross-country skiing
Accommodations: camping
Duration: 2-5 days
Capacity: 2 people (mushing) 4 people (skiing)
Start and End location: Fairbanks, AK
Time Window: February 1-30
Cost: Ask us for a quote
Trip Highlights:
Enjoy the scenery and thrills of the Yukon Quest International Sled Dog Race trail. The country surrounding the well-known Chena Hotsprings is a beautiful maze of rolling hills, spruce forest, and winding rivers, punctuated by towering granite tors. We'll follow the Yukon Quest trail into the hills and up a drainage, enjoying sweeping views of open country. Each night we will work together to create a comfortable and cozy winter camp in a homemade wall tent. We will gather spruce boughs for a floor, firewood for the woodstove and chop ice for water before setting in for an evening of good food and much-deserved rest in our warm sleeping bags atop caribou skin mats. Chances are good on this trip to see northern lights. On the way back, we will visit Chena Hotsprings for a well-earned soak and shower.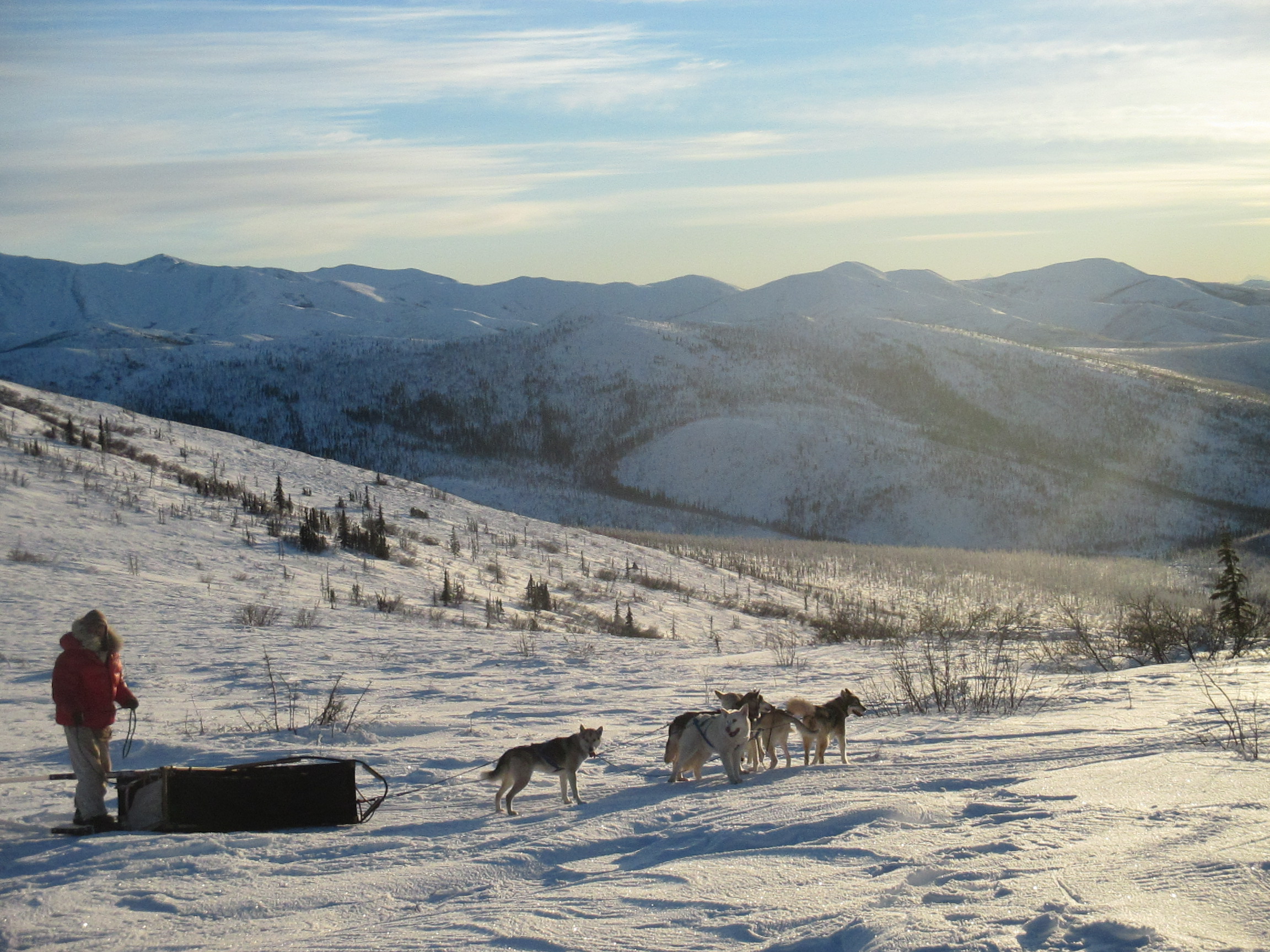 Itinerary:
Day 1: This trip begins in Fairbanks where we'll pick you up from your hotel, look over gear, and take off. We'll drive about an hour east, following the Chena River to near its headwaters. The farther we drive, the deeper into the hills (locally know as "domes") we get. We will park at a trailhead and load up sleds, harness dogs, check over your gear and cover some dog mushing basics. When we're all ready we will take off down the trail, traveling as a unit of three people using our "tag sled" setup (two sleds are connected by flexible plastic, one person sits in the front sled, driven by the guide, and the other person rides standing on the back sled, learning to steer their own sled). We will mush along a particularly fun and scenic section of the Yukon Quest trail, going up and down hills, along frozen rivers and through wide-open wild country. We stop whenever we please for pictures, dog pets, and snack breaks. In 2-5 hours we will arrive at our home for the night- a cozy campsite.
Once we enjoy a hot drink and a rest from the day's travel, we invite you to take part in gathering firewood, spruce boughs, and ice- all the ingredients of a comfortable campsite. As the sky grows dark we will settle in for the night, drying our clothing out and cooking dinner over the woodstove. We'll spend a cozy night all together in the wall tent, listening for wolves and coyotes and hopefully some nice northern lights. The dogs will sleep on their beds right outside the tent and will likely treat us to a howl of their own. You will sleep on cots on top of caribou hide sleeping mats and in extremely warm -40 down sleeping bags. The tent is shared with the guides for this night, which means we will tend the fire and be available to help.
Day 2-5: We will wake up to the sound of a crackling spruce fire hearing our morning brews. Mornings consist of a leisurely breakfast, tending to the dogs, and letting the world outside warm up. Today a different stretch of trail awaits us. Depending on the length of the trip, we may climb the massive Rosebud summit, from the top of this mountain we can see in all directions and the view is incredible. On the other side lies Birch Creek National Wild and Scenic River, where if conditions are good we can blaze our own trail as far as we please, enjoying the winding river. This trip is generally an out-and-back loop.
Last Day: We mush our way back to the trailhead and load the dogs and gear. Chena Hotsprings is a short drive away. We will leave the dogs to rest in their straw-lined dog boxes while we enjoy the rejuvenating hotsprings. We usually eat dinner at the hotsprings resort. After the soak, we drive back to town for a well-deserved rest. We generally arrive back in town after dinner.
Alternatives: This trip can be run as a cross-country ski trip (less expensive, ask us for quotes and details)
Photo Credit: Photos of this trip by Peter Rausse, http://www.peterrausse.com/
Reserve your Adventure! After talking to us to confirm dates and details, please complete your reservation by paying a $500 down payment. This is fully refundable if you cancel at least two months before your trip's start date.
Just click the "buy now" button and pay using paypal.