Moonlight Mushing
Dog sledding under the stars is a once-in-a-lifetime experience. Night is the dog team's favorite time to run. It is both peaceful and exhilarating to glide over the icy creek and along winding bog trails under the light of the stars and moon. Join our team of friendly Alaskan Huskies for an evening trip you won't forget.
The Experience
Get dressed for the outdoors in our cozy off-the-grid cabin. We provide good headlamps, warm parkas with ruffs, overboots, snowpants, overmitts, handwarmers, some hats and neck gaiters. We ask that you bring your warmest gear with you and we'll take care of the rest. Our trip will take us roughly 5-miles, circumnavigating a largely uninhabited section of the valley, surrounded by rolling hills. We'll travel on a series of interconnected winter trails through forest, bog, lake, and along the creek. Using voice commands, we will navigate our way through the trail system, both enhancing your experience as well as training our dogs. We stop on the trail for plenty of dog petting. You can get photos with the dogs inside our cabin. NOTE: This is not a tour designed to show you the aurora. The best time to see the aurora is between 10pm-2am, and we run these tours between 7-10pm. While we sometimes see the lights on the tour, your best chances of seeing the lights are after this tour is over.
The Dogs
We use our dog team for work, travel, and fun. We make our dog sleds by hand and spend a month each fall fishing for salmon to feed our team. During this interactive dog ride, we can tell you all about this lifestyle and the equipment used. We will teach you the basics of dog mushing, covering how we train, feed, harness and run the dogs. We have a "tag sled" so one person can steer their own sled while the other rides in the front sled with a guide. This is a hands-on, active ride and a great way to learn!
The Details
Tours are by reservation only, our home is also our business. We are located close to the University of Alaska Fairbanks, 15-20 minutes from downtown Fairbanks. Pick-up is available upon request for an additional $25/direction ($50 total for round trip for up to 5 people) from most Fairbanks locations. We do not have specific weight or fitness requirements for our dog sled tours, but dog sledding is an active sport. Guests need to be able to jump on and off and walk behind the sled if need be. Participants need to be fairly fluent in English for safety reasons and we do not accept children under the age of 10. If you are wondering if this is the right tour for you, please ask us!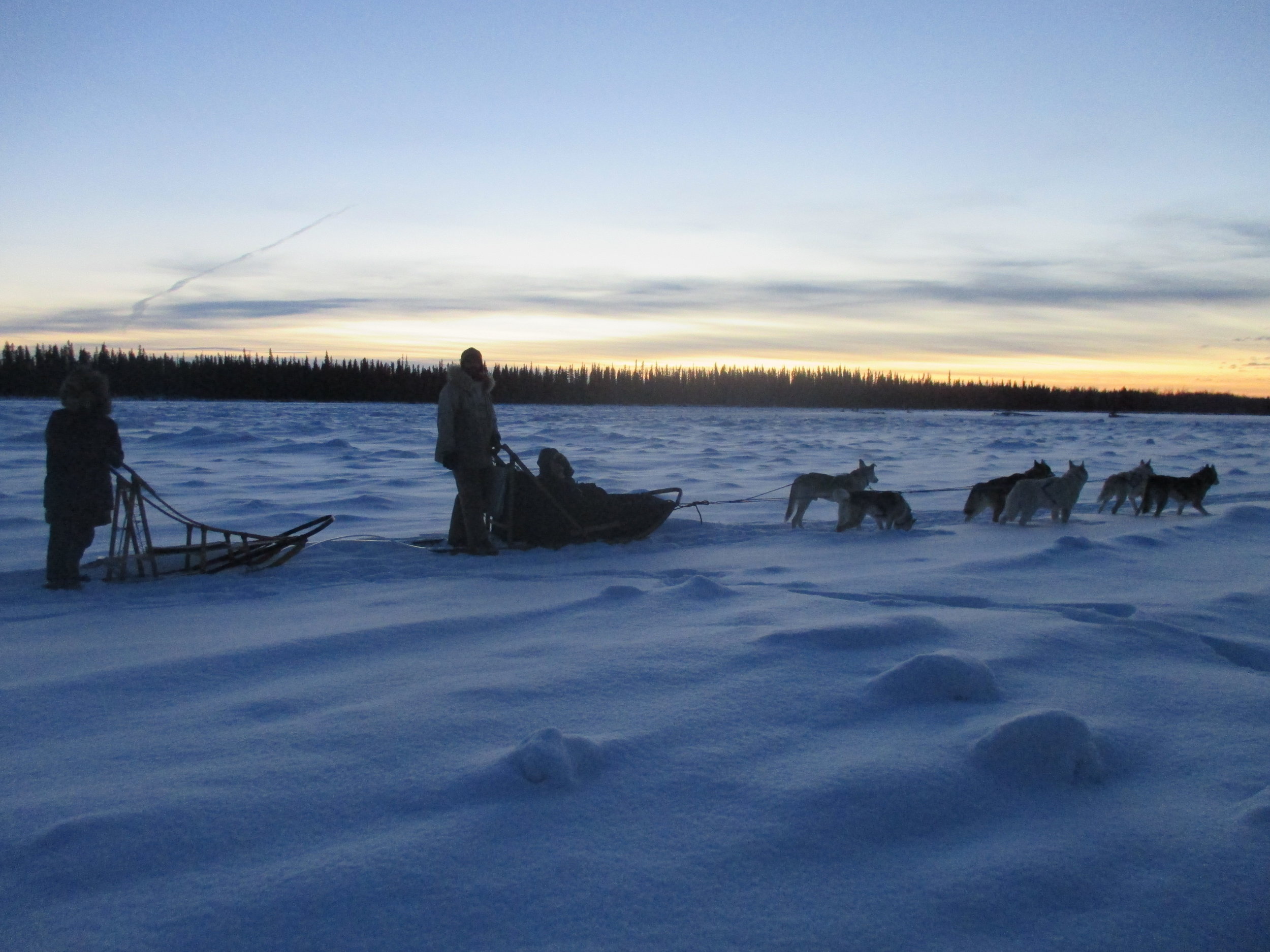 DURATION: 1.5 hours (30 minutes in the sled, 1 hour meeting the dogs, taking photos, getting geared up, tea and cookies). Longer tour available on request.
WHEN: By appointment, November 15-April 1. Tour generally run between the hours of 7-10pm. Please call as far in advance as possible to schedule as trips fill up!
WHERE: 2240 Railroad Drive in Fairbanks Alaska
COST: $125/person. Military and Alaska Airlines employee discount 10% upon request.
BOOK NOW! Call Jenna or David at 248 568 0345 or email us at borealjourneysak@gmail.com.
PAYMENT: Once you have confirmed a date and time with us, we ask that you pay a portion of the cost of your tour as a reservation fee using paypal button below to finalize the reservation. Please confirm the date with us before paying. Reservation fees are fully refundable if you cancel at least two weeks prior to the date of your trip. We will happily accept the remainder of your payment in cash or check made out to David Jonas on the day of your trip. Tips of 5-10% of the cost of your trip are greatly appreciated and all tips go to medical care and treats for the dogs! :)