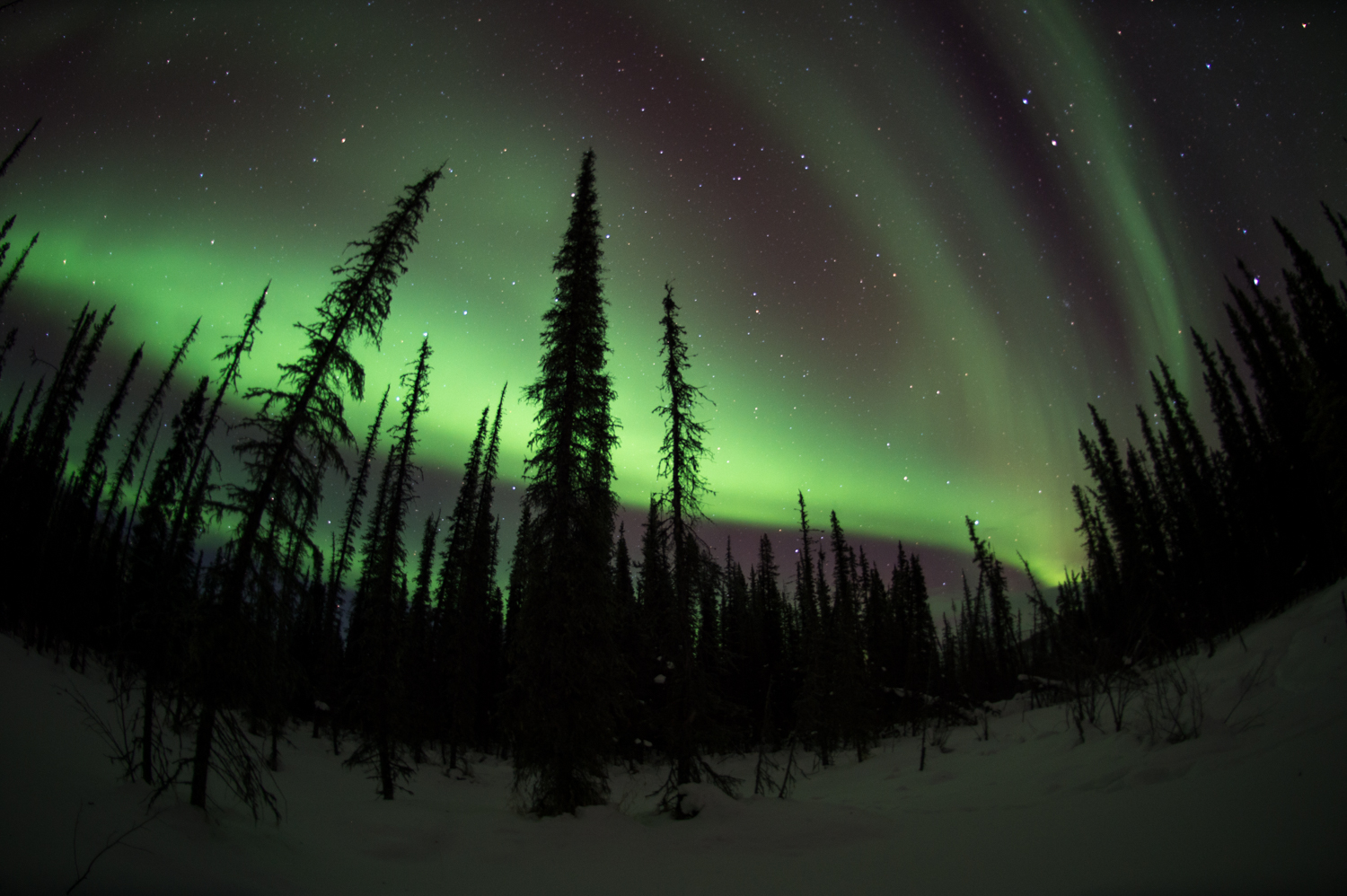 Mushing and Aurora Adventure
Did you come to Fairbanks to see the northern lights? Want to do it without driving far and freezing your toes? We designed this exciting, personal, and authentic northern lights experience just for you.
The Experience
Your tour begins at our rustic Goldstream Valley cabin where we'll suit you up in warm winter clothing and introduce you to our team of friendly huskies. We provide warm parkas with ruffs, overboots, snowpants, overmitts, handwarmers, some hats and balaclavas. We ask that you bring your warmest gear with you and we'll take care of the rest. We'll cover the basics of mushing and you can lend a hand as we care for, harness, and pet our dogs. We'll take off from our yard and explore our winter trails in a wide-open valley, a perfect place to see the Aurora Borealis overhead. We'll end up at our Aurora Cabin where you can spend the rest of the evening enjoying a warm fire, hot drinks, fresh-baked cookies and snacks, sled dog snuggles, stories and information about the aurora from your guide and, with luck, a wonderful show from the aurora borealis. Across the creek from the cabin there is a wide-open bog where aurora viewing is good. We have trails to walk to explore this bog and we'll even build you an outdoor fire to sit by as you watch and photograph the night sky. The cabin, warm clothes, and trails are designed so you can get the best possible photos and memories.
The Dogs
We use our dog team for work, travel, and fun. We make our dogsleds by hand and spend a month each fall fishing for salmon to feed our team. During this interactive dog ride, we can tell you all about this lifestyle and the equipment used. We will teach you the basics of dog mushing, covering how we train, feed, harness and run the dogs. We have a "tag sled" so one person can steer their own sled while the other rides in the front sled with a guide. This is a hands-on, active ride and a great way to learn!
The Details
We are located less than 20 minutes from downtown Fairbanks and only 15 minutes from the airport. Our cabins are "off the grid," heated by woodstoves, and provide an authentic Alaskan experience.
DURATION: 5 hours, 9pm-2am
WHEN: By appointment, November 15-April 1. Please call as far in advance as possible to schedule as trips fill up!
WHERE: 2240 Railroad Drive in Fairbanks Alaska.
COST: $250/person if you drive yourself. $275/person, includes pickup from hotel. Discounts for parties of more than 2 people. Military discount 10% upon request.
BOOK NOW! Call Jenna or David at 248 568 0345 or email us at borealjourneysak@gmail.com. Once you have confirmed a date and time with us, we ask that you pay 50% of the cost of your tour as a reservation fee using paypal button below to finalize the reservation. Please confirm the date with us before paying. Cancellation policy- Unfortunately, we can't control the weather. If we determine that it is hopelessly overcast on the night you've signed up for we can offer you an evening dog ride for $150/person and will do our best to reschedule your tour. If this is not possible, we will give you a refund (minus paypal transaction/booking fee of $50).
Information on the Northern Lights
Aurora Forecast- http://www.gi.alaska.edu/auroraforecast
Aurora Forecast and Information- http://www.aurora-service.org/aurora-forecast/
Aurora Notifications- http://auroranotify.com/