Location: our homestead on the Tanana River
Activities: Dog MusHing, Snowshoeing, ice fishing, winter camping.
Accommodations: Cabin, camping
Duration: 4 days, 3 nights * Longer if desired
Capacity: 1-4 people
Time Window: December 15- March 30
Cost: 2-4 people:$1980/person, 1 person: $3,000
Trip Highlights:
This trip is designed to give you a taste of the magic of winter camping and dog mushing. If you only have a few days, this is the best way to experience dog sledding, winter camping, snowshoeing, ice fishing, and our Tanana River homestead. This trip is run out of our homestead and on trails where we seldom see any other humans. Comfortable winter camping is a great way to see the northern lights!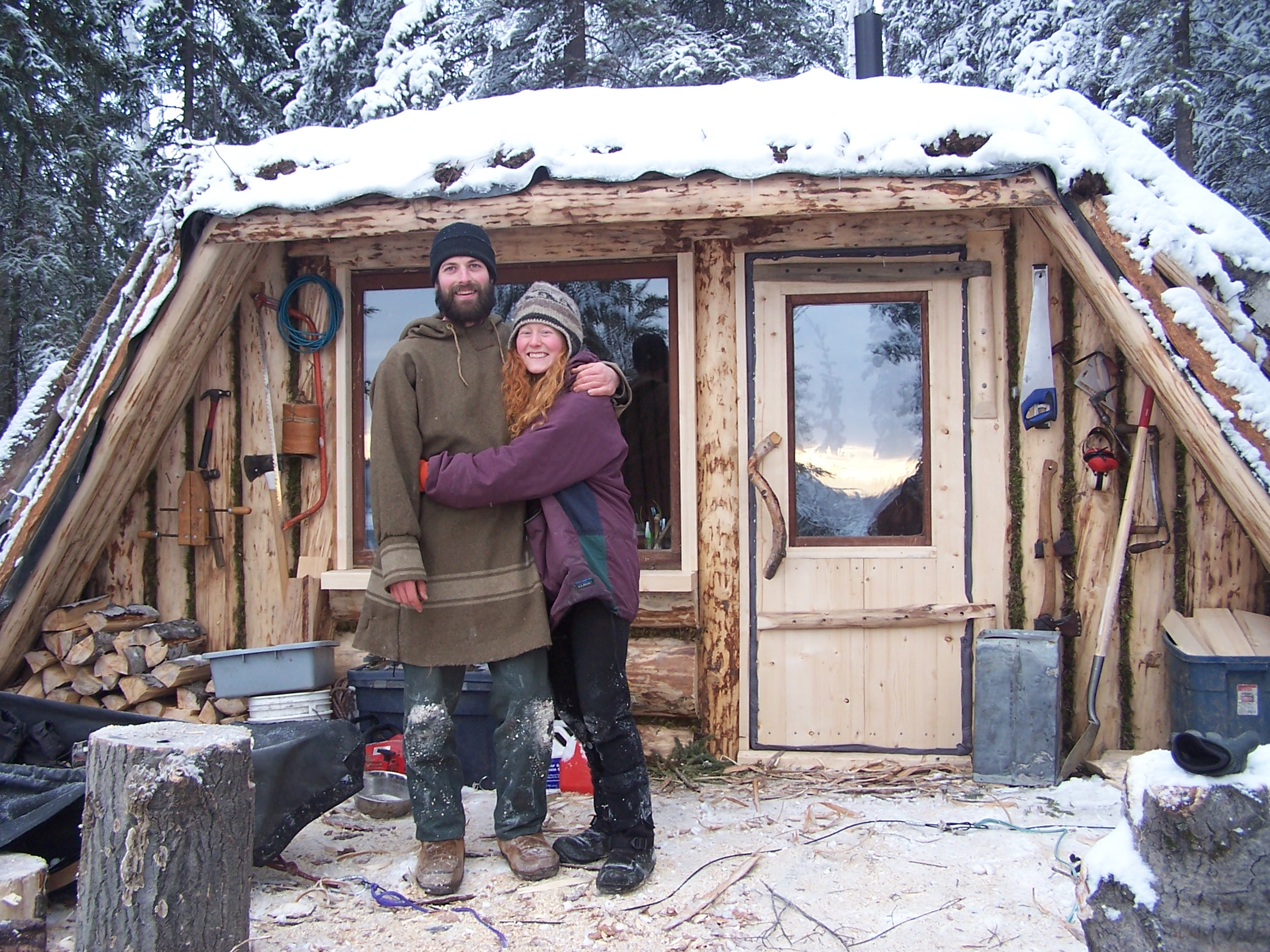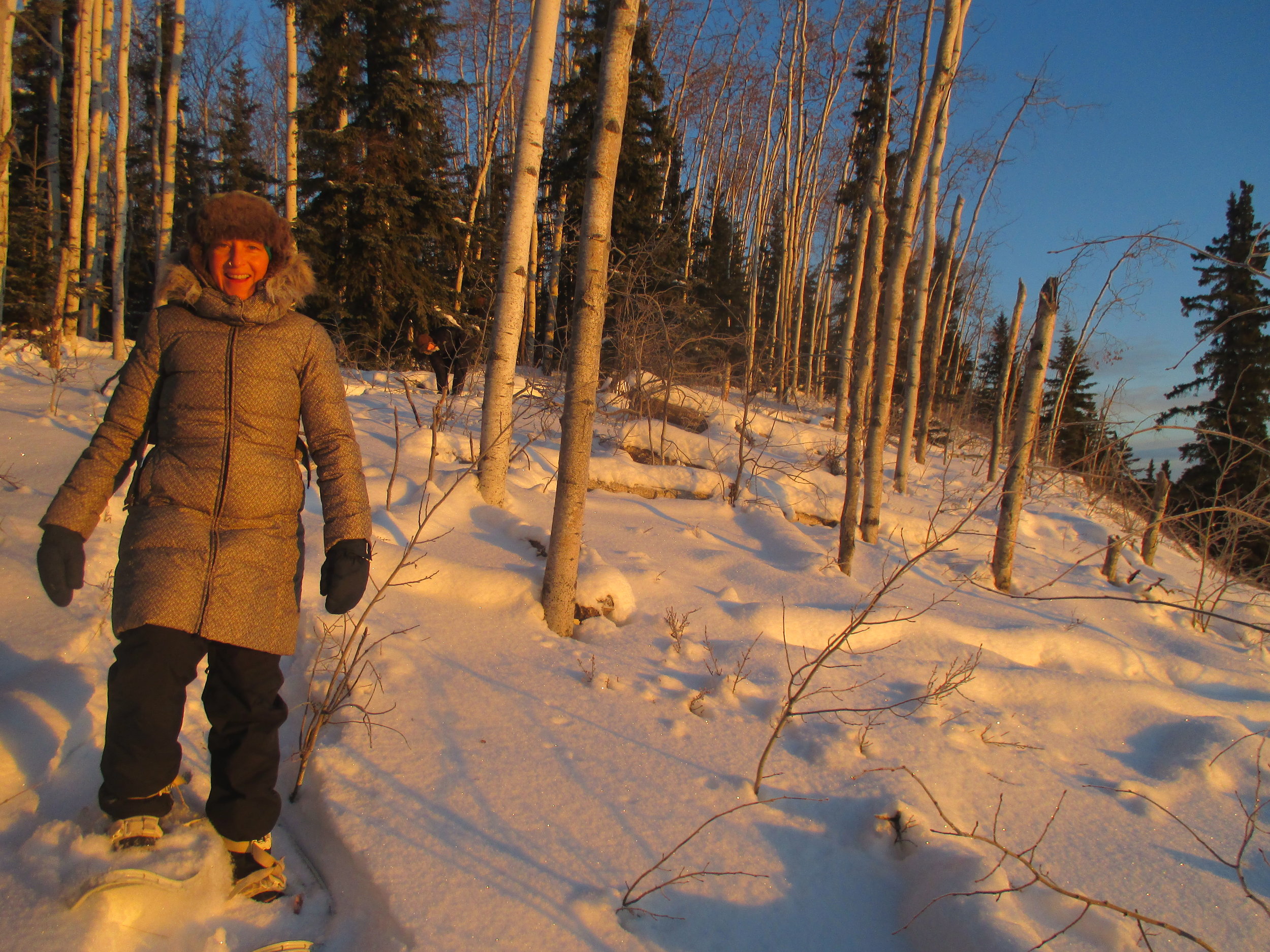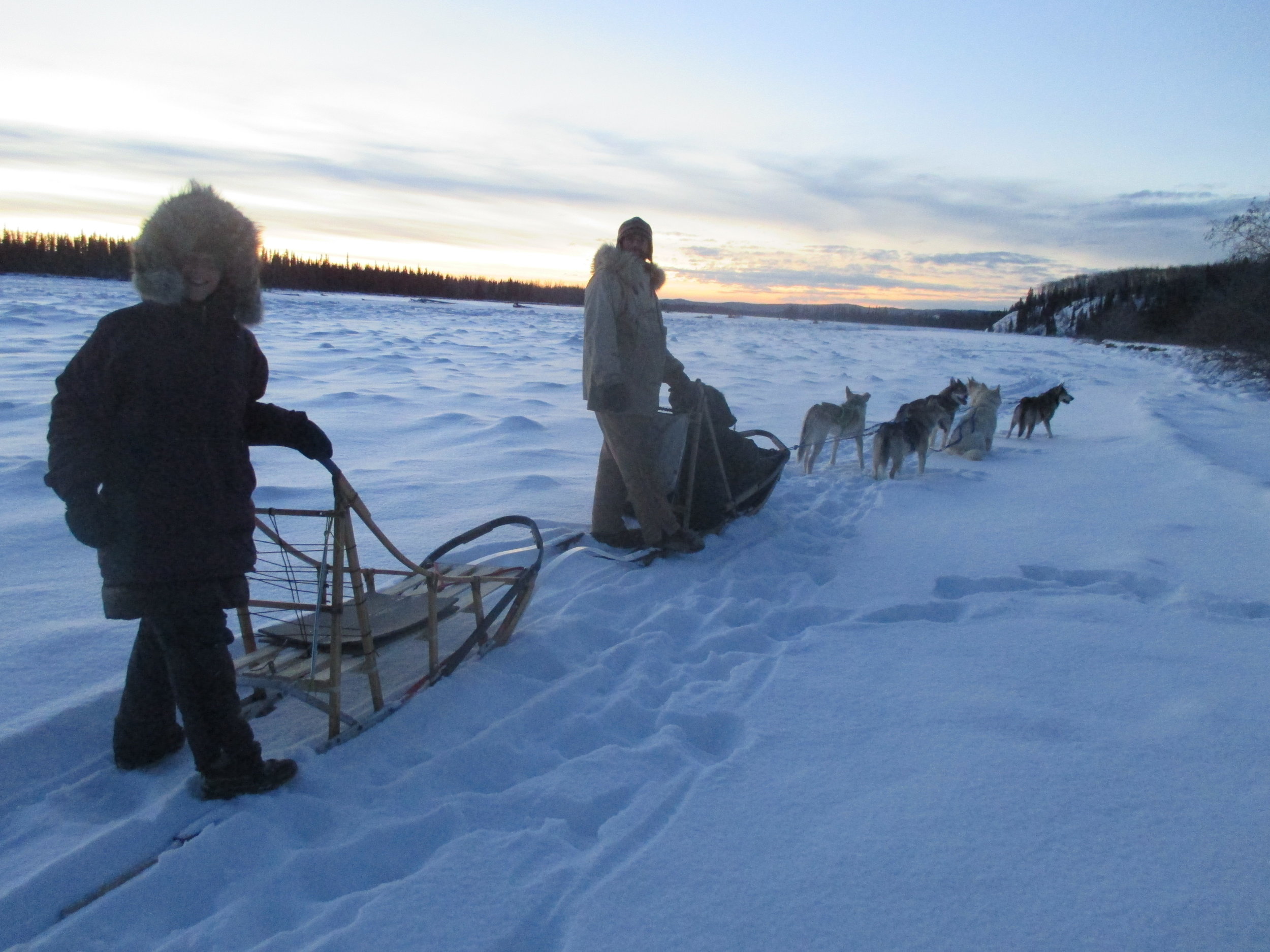 Itinerary:
Day 1: We will pick you up with our dog team in tow from Fairbanks and drive south on the Parks Highway to the trailhead, about an hour away. After covering mushing basics and introducing you to our safe and fun "tag sled" set up (two sleds are connected by flexible plastic, one person sits in the front sled, driven by the guide, and the other person rides standing on the back sled, learning to steer their own sled). After double checking your warm clothes, we will hit the trail. Our first taste of dog mushing will take us along scenic trails through forest, bog, lake, and finally on the Tanana River to arrive at our homestead where a warm lunch and cabin awaits. The rest of the day is spent getting settled into our private Sunlodge Cabin, learning to snowshoe along the sunny bluff, covering winter travel basics and relaxing by the woodstove. We will share a delicious candlelit dinner in our kitchen tent and get a good night's sleep or stay up watching for the aurora borealis.
Day 2: The next morning we'll enjoy a substantial breakfast in our kitchen tent and pack the sleds, aiming to leave around lunch time. We'll travel first on established river trails, then branch out into the woods to travel through scenic bog and lake country. We will spend 3-5 hours on the trail this first day, stopping for lunch and to rest the dogs and take pictures and arrive to find cozy campsite all ready to go. Once we enjoy a hot drink and a rest from the day's travel, we invite you to take part in gathering firewood, spruce boughs, and ice- all the ingredients of a comfortable campsite. As the sky grows dark we will settle in for the night, drying our clothing out and cooking dinner over the woodstove. We'll spend a cozy night all together in the wall tent, listening for wolves and coyotes and hopefully some nice northern lights. The dogs will sleep on their beds right outside the tent and will likely treat us to a howl of their own. You will sleep on cots on top of caribou hide sleeping mats and in extremely warm -40 down sleeping bags. The tent is shared with the guides for this night, which means we will tend the fire and be available to help.
Day 3: We will wake up to the sound of a crackling spruce fire hearing our morning brews. Mornings consist of a leisurely breakfast, tending to the dogs, and letting the world outside warm up. Today a different stretch of trail awaits us. We will head first towards a ridge and follow a small creek as it winds along rocky bluffs and empties into the Tanana River. Once on the main river, we will cruise another 15 miles or so, stopping for lunch and rest breaks. The trail is generally well-established and interesting, in 2015 and 2017 this trail was used by the iditarod sled dog race. We will take the river and its sloughs all the way back home, some 18 miles total to our homestead where a warm cabin awaits. We can celebrate an adventurous night on the trail with a pleasant fire in the front yard and enjoy the comforts of a homestead.
Day 4: Today you can choose from a variety of morning activities- snowshoeing to the amphitheater bluffs for a view of Denali and the Alaska Range, working on small craft projects in the kitchen tent, checking on the ice fishing lines, or simply relaxing with a book or a sled dog to cuddle. We will provide hot breakfast and lunch and in the early afternoon we will load up the dog sleds once more for the trip back to the truck. We will have you back in Fairbanks in time for dinner and a shower.
Alternatives- We can add an additional night of camping to this trip, this allows us to explore tributaries of the Tanana and spend more time on the trail (ask for updated quote). This trip can also be run as a cross-country ski trip. Please ask us if you are interested in this less-expensive option :)
Reserve your Adventure! After talking to us to confirm dates and details, please complete your reservation by paying a $500 down payment. This is fully refundable if you cancel at least two months before your trip's start date.
Just click the "buy now" button and pay using paypal.