Arctic Adventure Basecamp
Location: The arctic- usually the brooks range mountains
Activities: Dog MusHing, Snowshoeing, cross-country skiing, winter camping
Accommodations: camping
Duration: 4-6 days
Capacity: 2-4 people
Time Window: April 1-15
Start and End location: Fairbanks, AK
Cost: $750-$1250/person/day, contact us for a quote.
Trip Highlights:
Spring in the Arctic is a dramatic awakening. Fueled by the return of the sun, the Arctic's inhabitants emerge. Resident flocks of redpolls and ptarmigan, wolves, wolverines and foxes are joined by thousands of migrating caribou, geese, swans and other creatures. When it finally gets dark for a few hours, extraordinary northern lights often display overhead. The winter's blanket of snow is polished by the reflective light and wind, creating some of the world's best conditions for exploration by dog team, skiis, and snowshoes. In the spring, the Arctic is the place to be. We offer trips in the arctic in conjunction with our partners, Arctic Wild LLC (www.arcticwild.com) and Sirius Sled Dogs (www.siriussleddogs.net).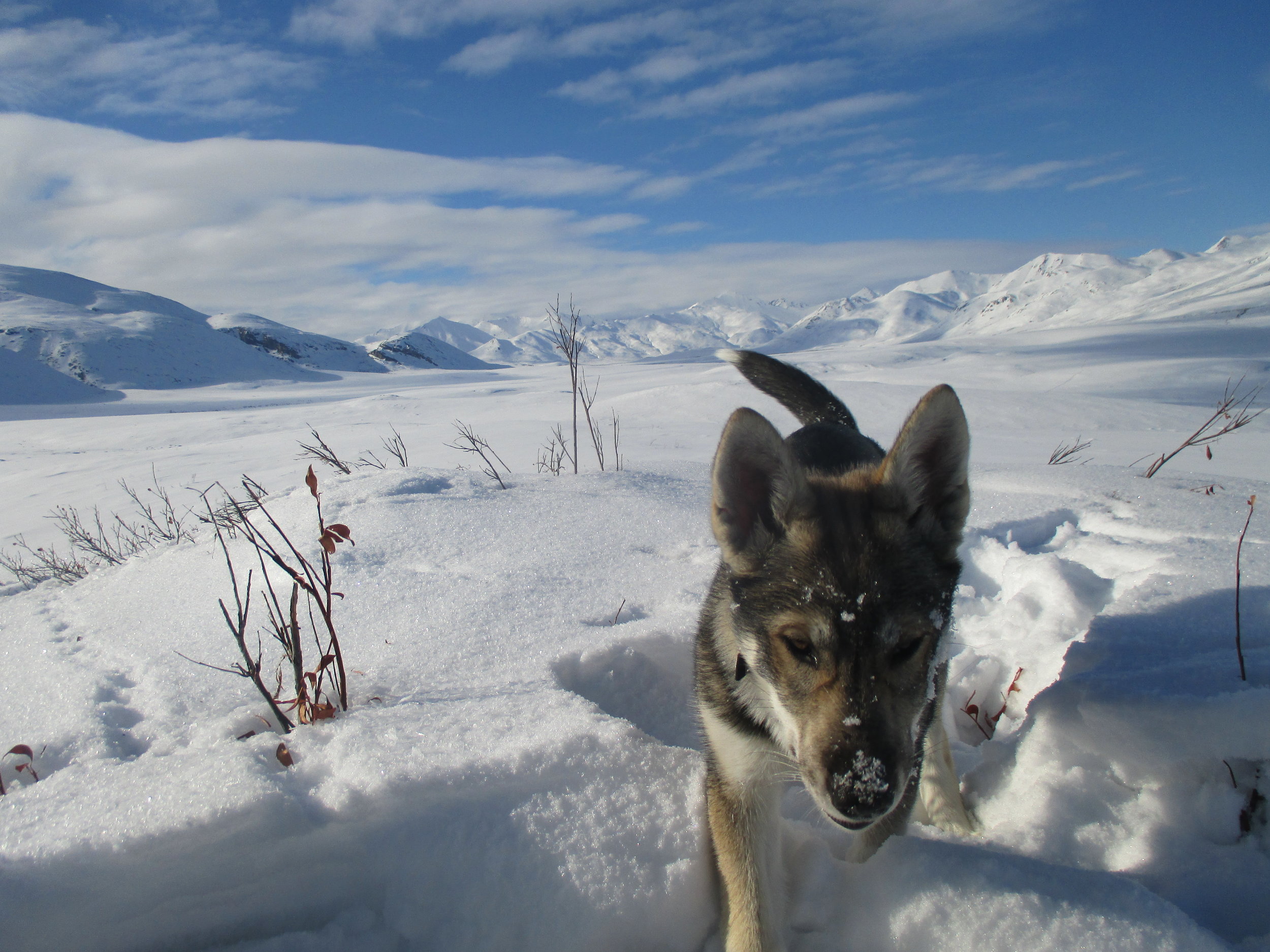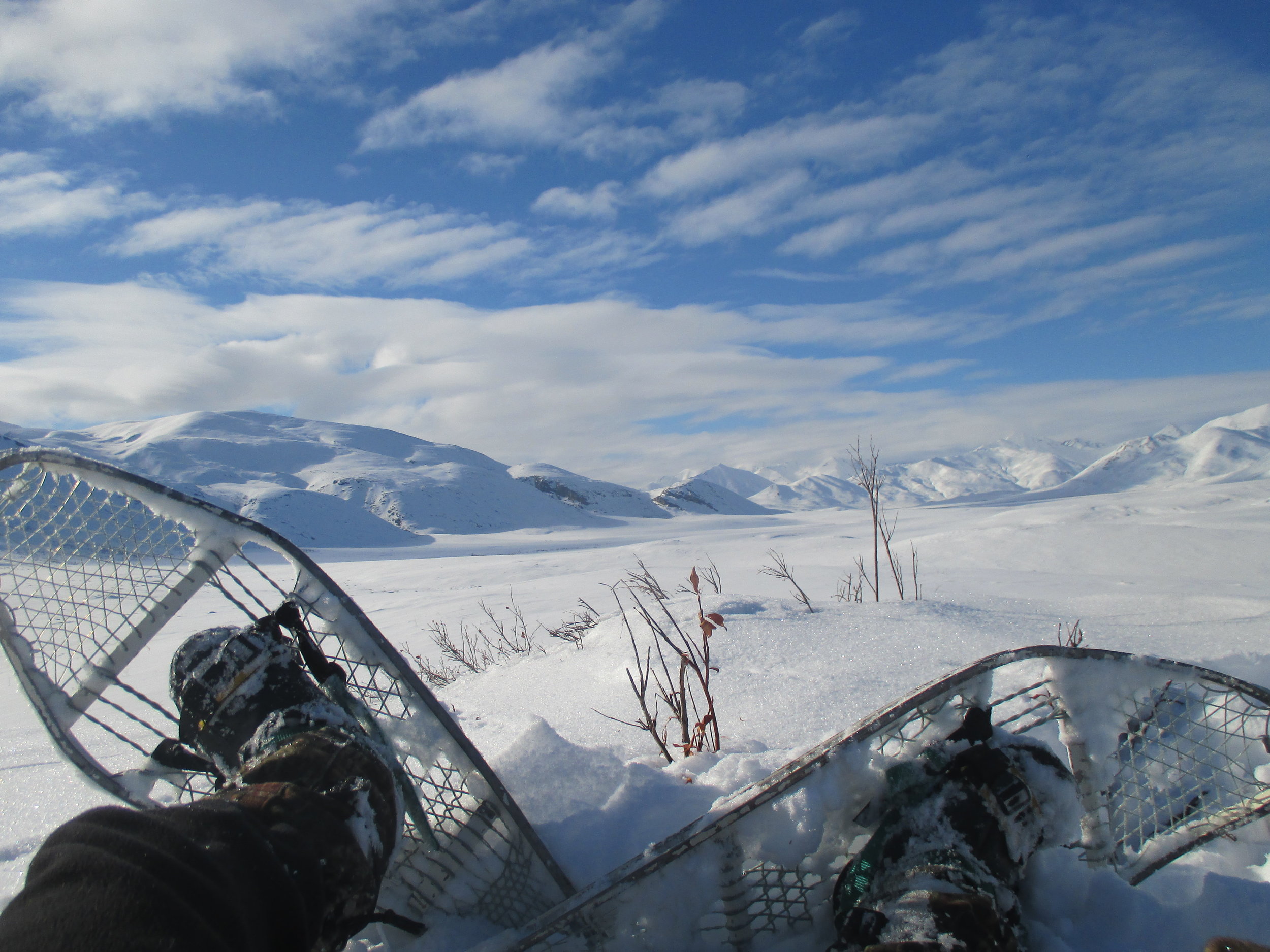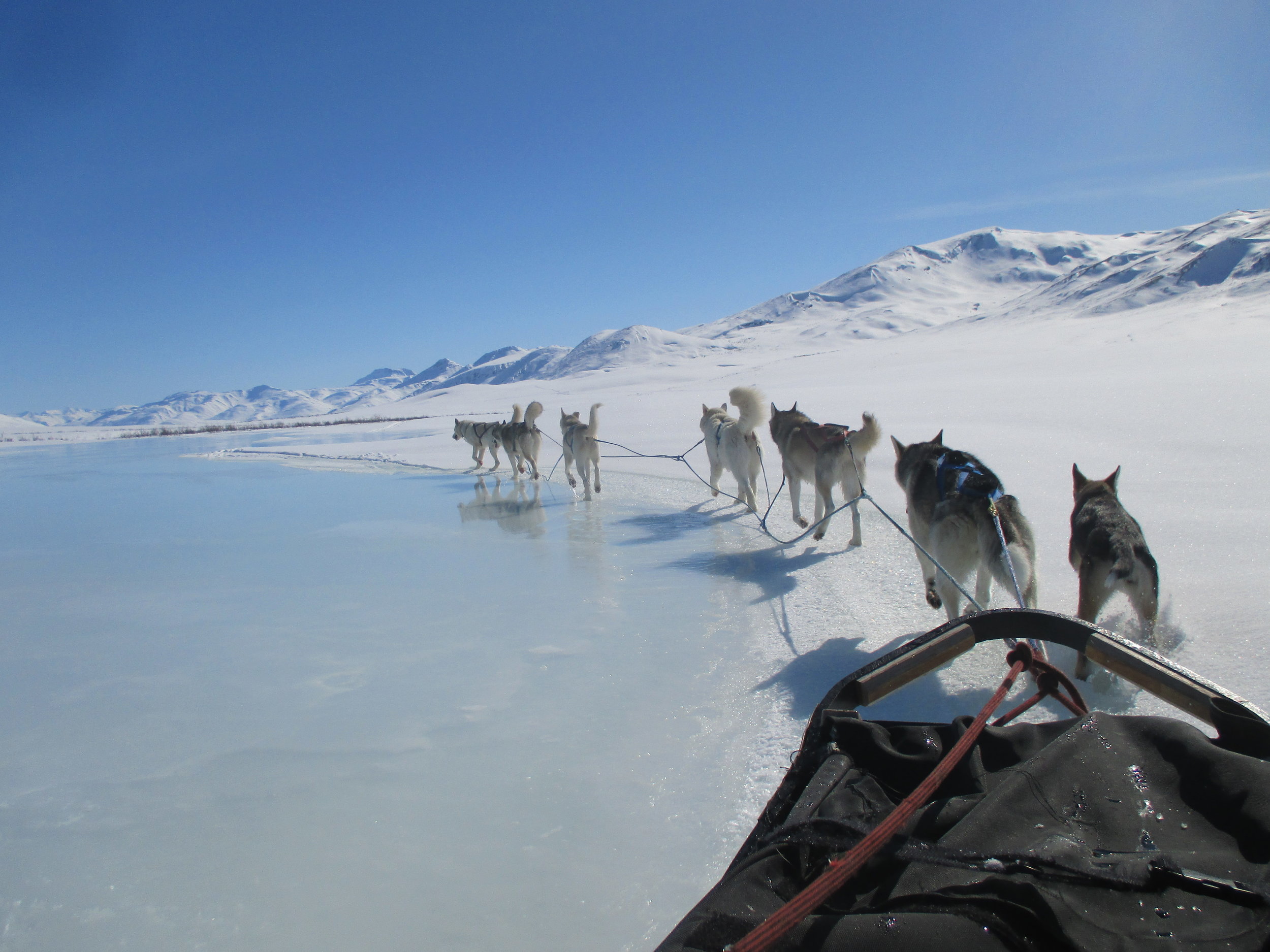 Itinerary:
Day 1: Getting there- Board a bush flight that leaves Fairbanks in the morning or early afternoon and flies you to Coldfoot, Alaska. We'll pick you up there and drive 1.5 hours (possibly farther for late spring trips) to our launching point off of the Dalton Highway. We will load the sleds with your gear, make sure you are properly outfitted in winter clothing, cover mushing basics, and head out. You'll start off riding in the basket or on the back of our second "tag" sled, enjoying the scenery as we glide 5-10 miles through a breathtaking valley, along frozen rivers and trails to our basecamp. We'll arrive at camp to a hot dinner in the cook tent. You will have your own heated arctic oven tent complete with sleeping cots, caribou hide mattresses, and -40 sleeping bags. You'll get a well-earned night of sleep in your own heated tent, listening to the flickering of the woodstove, howls of sled dogs and with luck, the northern lights above.
Day 2: Mushing school! We'll cover all the basics of dog handling- you'll get to know your dog team and help harness, feed, and interact with them. We'll hit the trail using a "tag sled" where you drive your own sled, but are still connected to a guide. This is a great way to learn the joys of the trail and avoid the hazards. We will have our own network of trails to explore and endless wild country to enjoy. In the afternoon we can explore by snowshoe, climbing into small side valleys, cresting small mountains and even sledding down some of the hills!
Days 3-5: The fun continues- We will continue mushing day-trips, exploring the valleys, hills, and side creeks. We'll make warm fires and enjoy picnic lunches on the trial. You can also try your luck at ice fishing, explore some different terrain on snowshoes, learn more about the natural history of the Brooks Range by following animal tracks with experienced guides, take some incredible pictures, and soak in the spring sun. If primitive skills interest you, we can work together on fire making, snow shelters and other bushcraft skills.
Last day: Head back- We'll rise early and mush back out to the road, saying a goodbye to the valley at dog-speed. We will drive you back to Coldfoot for an afternoon bush flight that will take you back to Fairbanks around dinner time… and a much-deserved shower!
Included: Bush flights from Fairbanks to Coldfoot, Alaska, all food, all gear including tent, sleeping bag, sleeping pad, parka (bring your own if you like), boots, warm mitts, snowshoes, fishing gear.
Not Included: Flights to Fairbanks, Alaska, lodging in Fairbanks for the night before you fly in and day you get back. Skis, boots, poles for optional cross-country skiing (you can rent skis from University of Alaska Fairbanks if you like). Bring your own alcohol if you like.
Reserve your Adventure! After talking to us to confirm dates and details, please complete your reservation by paying a $500 down payment. This is fully refundable if you cancel at least two months before your trip's start date.
Just click the "buy now" button and pay using paypal.